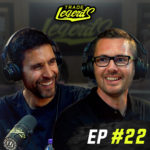 After a short hiatus, Pete is back in the chair!
As always our hosts will be joined by two exciting new guests, this time we have Michael from Tradify and Mike from Green Hawk Construction.
Michael talks us through how we worked his way through the tech companies of the 90's including AOL & Microsoft before meeting the founder of Tradify and taking over as CEO.
Mike talks about the importance of having a mentor and fast track courses and how they can help.
⭐ This episode is proudly sponsored by Bisley Workwear ⭐
🥾 Purchase a pair of V12 Band of Builders Charity Boots here:
V2150 BoB Charity Boot
🏆 £250 PowerToolMate Prizes Competition | https://bit.ly/prizetl
⭐ Save 15% with code TRADELEGENDS at Bisley Workwear | https://bit.ly/bisleyww
⭐ Save 50% with code TRADELEGENDS at Tradify | https://bit.ly/3pVHz2a
🏷️ Save Money on over 45 Trade Brands | https://bit.ly/disctl
______
Guests this episode:
🪚 Mike ( Green Hawk Construction ) IG: @greenhawkconstruction
💻 Michael ( Tradify ) | IG: @tradify
#mentalhealth #podcast #construction