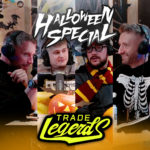 Alex & Pete are back for a Halloween Special!
Featuring Guests: Mike (Residual Current / Load Out) Ash (Mahoney Brickworks)
Mike, talks about being an electrician and his path towards creating his own online business & Ash has plans to travel west to lay the fastest brick in Vegas.
Stay tuned until the end for an amazing giveaway courtesy of Load Out featuring a Velocity Rogue 6.0 Toolbag, jam packed with tools from Knipex & Klein Tools, a Unilite SLR-500 Work Light and a crate of Trade Legends beer. That's not all as always we have a £250 PowerToolMate voucher to be won!
To enter visit tradelegends.uk/giveaways/ and enter your answers to the following questions:
Q. Guess the combined score of 12 darts from both players, closest answer wins.
Q. Who got the highest score in Darts… Mike or Ash?
Good Luck! Please note: You must be a UK resident for entry in to the giveaway.