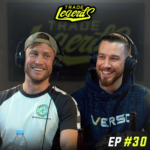 PB Plumber has taken a break from his marathon running to join Big Al for the last show of 2022!
For this week's episode we are joined by Adam from AC Bespoke Carpentry, and Will from Verso Electrical.
Adam started his career as a bench joiner, but when the recession of 2008 hit, he noticed the housing market wasn't looking as healthy as it once was! So where do you go after the housing market? The luxury yacht-building industry of course! Will worked in the this industry for over 4 years, but unfortunately, despite his best efforts, the company wouldn't let him take one for himself… so where do you go after building luxury yachts? You travel around Asia and Australia!
Will eventually returned to the UK where he started his own business as a bespoke furniture builder.
Will has dabbled in many business ventures, from starting a clothing brand at University, to working in the Aerospace industry. But after getting a job with Edmundson Electrical, he developed an interest in wiring accessories. Will decided to start his own business specialising in consumer units and circuit protection. He was focussed on developing products of the highest quality, whilst investing back into the business to help it grow to new heights… all in the middle of a pandemic!
Not an episode to be missed!