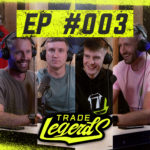 We're back and quicker than ever with new Bi-monthly episodes! Guests this episode include Ryan Davis & Adam Dunlop, It's an electrician extravaganza!
In this episode, Adam talks us through what it's like being an apprentice and working with Nick Bundy and Ryan talks tool fairs and the burdens of being recognised.
Stay tuned until the end for an amazing giveaway featuring a Unilite bundle including a UR4.5 Tool Bag, SLR-1000, Hard Case and a crate of Trade Legends beer. That's not all first prize this episode is £250 in PowerToolMate vouchers! To enter visit tradelegends.uk/giveaways/ and enter your answers to the following questions:
Q. Guess the combined score of 12 darts from both players, closest answer wins.
Q. Who got the highest score in Darts… Ryan or Adam? Good Luck!
Please note: You must be a UK resident for entry in to the giveaway.