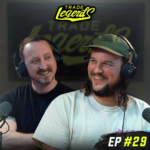 MJ Tiff is back in the building!
In this week's episode we are joined by Derek of Derek Barrett Design, and Oli from With Bear Hands.
Derek came over to the UK to study Fine Craft at university, before heading back to Ireland to start up his own business. He quickly realised that the UK was where his future lay and headed back to set up Derek Barrett Design. He learned the importance of investing in your business, as well as the power of social media.
Oli never thought he'd end up building tree houses for a living! As an aspiring comic book illustrator, he found himself in the world of animation for both TV and Film, working on titles such as Wallace and Gromit… but life never pans out the way we think it will.
He took his passion for building things to a whole new level. He began designing and building luxurious, yet quirky cabins for clients around the UK, and actually featured on Channel 4's 'Amazing Spaces.'
His next step was obviously Trade Legends!
Not an episode to be missed!