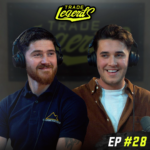 Ryan Davis is back (Just about recovered from the birthday special) and here for the first time as a guest host! With him this week we have two excellent guests, Charlie from CH Construction and Cory Mac from OY Electrical (Formerly Artisan Electrics).
Both guests come with incredible stories of their life in the trades. Charlie talks to us about how he started as a labourer and why he wanted his own business so he could support his family.
Corey talks to us about how he started life in a farming background, became an accountant and decided none of that was for him and the hard work that was put in to achieve success.
⭐ Save 50% with code TRADELEGENDS at Tradify | https://bit.ly/3pVHz2a
🏷️ Save Money on over 45 Trade Brands | https://bit.ly/disctl
______
Guests this episode:
⚡ Cory ( ØY Electrical )
🧱 Charlie ( CH Construction )
#electrician #construction #podcast #funny