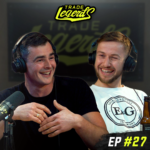 This week on Trade Legends…. * Drum Roll *
@P B Plumber is back! He's found a gap in his marathon schedule to grace us with his presence (Medals in tow). Not only that we've got two exciting new guests as well!
Isaac, better know as Izzy the Bricky tells us how he went to University to study forensic psychology then realised he basically just wanted to do freshers and left to become a Bricky.
Josh talks us through how we was originally going to become a chef before his dad got him a carpentry apprenticeship, and eventually founding his own business during lockdown, complete with his own workshop.
⭐ Save 50% with code TRADELEGENDS at Tradify | https://bit.ly/3pVHz2a
🏷️ Save Money on over 45 Trade Brands | https://bit.ly/disctl
______
Guests this episode:
🧱 Isaac ( Izzy the Bricky )
🪚 Josh ( E & G Interiors )