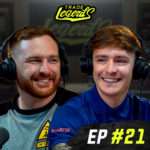 PB couldn't make it for this episode so we have a stand in host joining Big Al this week…. none other than MJ Tiff himself!
As always our hosts will be joined by two exciting new guests, this time we have Chris from Keel's Joinery and Construction Ltd the winner of Screwfix's Trade Apprentice of the Year 2020 and Rob from the Mind Your Head Podcast (MYHP).
Chris talks us through how he got started in the trades and how he got off to. an amazing start by winning the Screwfix Apprentice of the Year as well as how he never stops including working in a bar and weekend work all whilst doing his apprenticeship.
Rob talks us through how he went from labourer to business owner, and now mental health advocate and the huge rollercoaster of a journey he's been on.
If you ever find yourself struggling with Mental Health, please reach out and ask for support, you don't need to go through it alone!
⭐ This episode is proudly sponsored by Bisley Workwear ⭐
🏆 £250 PowerToolMate Prizes Competition | https://bit.ly/prizetl
⭐ Save 15% with code TRADELEGENDS at Bisley Workwear | https://bit.ly/bisleyww
⭐ Save 50% with code TRADELEGENDS at Tradify | https://bit.ly/3pVHz2a
🏷️ Save Money on over 45 Trade Brands | https://bit.ly/disctl
______
Guests this episode:
🧠 Rob ( MYH Podcast ) IG: @myhpodcast
🪚 Chris ( Keel's Joinery & Construction ) | IG: @keelsjoinery_construction_ltd