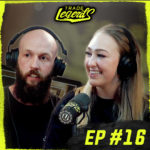 This episode is proudly sponsored by Bisley Workwear.
🏆 £250 PowerToolMate Prizes Competition | https://bit.ly/prizetl
⭐ Save 15% with code TRADELEGENDS at Bisley Workwear | https://bit.ly/bisleyww
⭐ Save 50% with code TRADELEGENDS at Tradify | https://bit.ly/3pVHz2a
🏷️ Save Money on over 45 Trade Brands | https://bit.ly/disctl
_______
Al has recovered from the Rona and is back with Pete and 2 new guests!
Elise of Els Electrics talks about her apprenticeship working on railways and how a bad experience can as a female Tradie can be very jarring. Joe talks how about he started working on fireplaces and decided he wanted to create a trade community around a fashion brand and the difficulties of finding a good designer!
Guests this episode:
⚡️ Elise (Els Electrics) | https://www.instagram.com/els_electrics/
☠️ Joe (Jackhammer Clothing) | https://www.jackhammer-clothing.com/
#business #podcast #electrician