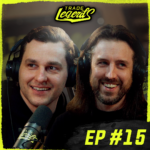 This episode is proudly sponsored by Bisley Workwear.
🏆 £250 PowerToolMate Prizes Competition | https://bit.ly/prizetl
⭐ Save 15% with code TRADELEGENDS at Bisley Workwear | https://bit.ly/bisleyww
⭐ Save 50% with code TRADELEGENDS at Tradify | https://bit.ly/3pVHz2a
🏷️ Save Money on over 40 Trade Brands | https://bit.ly/disctl
_______
Alex has finally succumbed and caught the Rona. Although Fake Al was ready to take over he was escorted off the premises for public indecency and Nick Bundy was brought in instead!
This Episode SNAP-IT Talks to us about their amazing new London based service for Plumbers and Ian talks to us bout how he got started in the trades and how it took him a while to find the right job for him!
Guests this episode:
🚚 Viktor (SNAP-IT) | https://www.snap-it.app/
🔥 Ian (IRB Heating) | https://www.instagram.com/irbheating/