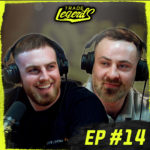 This episode is proudly sponsored by Bisley Workwear.
🏆 £250 PowerToolMate Prizes Competition | https://bit.ly/prizetl
⭐ Save 15% with code TRADELEGENDS at Bisley Workwear | https://bit.ly/bisleyww
⭐ Save 50% with code TRADELEGENDS at Tradify | https://bit.ly/3pVHz2a
🏷️ Save Money on over 35 Trade Brands | https://bit.ly/disctl
_______
This week we have James from JDN Brickwork & Phil from Driveways & Gardens Ltd it's a Northern takeover! Both guests talk us through how they got started in the industry growing and developing their business. Phil talks about his dream of horses. James talks about the difficulties of scaling and just like always Alex is hyper & Pete is late.
P.S Pete's now done 10 minutes in a cold shower….
Guests this episode:
🧱 James (JDN Brickwork) | https://www.instagram.com/jamesnaughton/
🧱 Phil (Driveways & Gardens Ltd) | https://www.instagram.com/drivewaysandgardensltd/
#business #podcast #construction