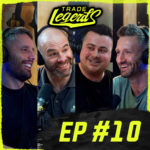 PB Plumber & Big Al have got two new guests this week including Simon (Simon Bowler LTD) & Troy (Rhino Trade Insurance)
PB has an almost un-airable joke, The gang talks about the importance of insuring your tools with a little help from Troy (Who makes it abundantly clear he can not make recommendations!) and Simon builds perhaps the worlds most expensive Chicken Coop.
Stay tuned until the end for a great giveaway featuring a Rogan Survival Tool a Kruger Construction Cap + a Bisley Workwear Bundle as well as a crate of Trade Legends Beer and as always our huge £250 Power Tool Mate Voucher. To enter visit tradelegends.uk/giveaways/ and enter your answers to the following questions: Q. Guess the combined score of 12 darts from both players, closest answer wins. Q. Who got the highest score in Darts… Simon or Troy? Good Luck!
This episode is proudly sponsored by Bisley Workwear. Grab yourself 15% off anything at https://bisleyworkwear.co.uk by using the discount code "TRADELEGENDS" at checkout.
If you haven't already seen we've partnered with over 25 brands offering you discounts on clothing, tools and services essential for trade and it's completely free! Head over to tradelegends.uk/discounts/ to save! Please note: You must be a UK resident for entry in to the giveaway. #business #podcast #funny