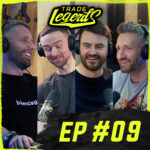 We're back for Season 2! New guests, new features… Same old PB & Al!
Guests this episode include Todd (Glister Services) & Matt from D5 Construction.
The gang talks about their first cars, Todd speaks about having covid and being self employed. There's a shocking story involving a Caravan and Matt talks about having a family and running a business.
Stay tuned until the end for a great giveaway featuring Unilite products as well as a crate of Trade Legends Beer and as always our huge £250 Power Tool Mate Voucher. To enter visit tradelegends.uk/giveaways/ and enter your answers to the following questions:
Q. Guess the combined score of 12 darts from both players, closest answer wins. Q. Who got the highest score in Darts… Todd or Matt? Good Luck!
If you haven't already seen we've partnered with over 25 brands offering you discounts on clothing, tools and services essential for trade and it's completely free! Head over to tradelegends.uk/discounts/ to save!
Please note: You must be a UK resident for entry in to the giveaway.