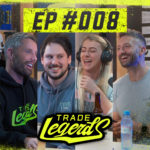 Trade Legends Episode 8 is here!
Guests this episode include Darcy (Rattlekings) of TikTok Fame & Tom from Sticker & That. Our Final Episode of 2021 is here! featuring Bricky Darcy who's Tiktok Channel spread faster than Omicron at an all night rave. Darcy talks about women in trade, being one of the lads, and her new found fame.
Tom from Stickers & That, tells us about how he went from a 9-5er selling boilers to becoming a brand specialist with his own company producing everything print. Plus the gang loses it and starts some impromptu ASMR, you definitely might want to miss that!
Stay tuned until the end for a great giveaway from our sponsor Regatta Workwear, who has put together an excellent bundle of prizes including Incursion Work Trousers & Thermogen heated jacket as well as a crate of Trade Legends Beer and as always our huge £250 Power Tool Mate Voucher. To enter visit tradelegends.uk/giveaways/ and enter your answers to the following questions:
Q. Guess the combined score of 12 darts from both players, closest answer wins. Q. Who got the highest score in Darts… Darcy or Tom? Good Luck!
If you haven't already seen we've partnered with over 25 brands offering you discounts on clothing, tools and services essential for trade and it's completely free! Head over to tradelegends.uk/discounts/ to save! Please note: You must be a UK resident for entry in to the giveaway.