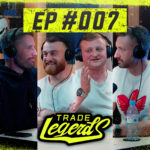 Trade Legends Episode 7 is here and it's a big one
Guests this episode include Ryan from SQ2 Contractors & Jack from Pleavin Power.
It's an intense one this week! The gang talks hiring and firing, death threats, trolling and what it takes to make it big in the world of business. In lighter news Pete finally cracks and takes a discount code from Big Al.
Stay tuned until the end for a great giveaway including a Unilite bundle plus a crate of Trade Legends Beer and as always our huge £250 Power Tool Mate Voucher To enter visit tradelegends.uk/giveaways/ and enter your answers to the following questions:
Q. Guess the combined score of 12 darts from both players, closest answer wins.
Q. Who got the highest score in Darts… Ryan or Jack? Good Luck!
If you haven't already seen we've partnered with over 20 brands offering you discounts on clothing, tools and services essential for trade and it's completely free! Head over to tradelegends.uk/discounts/ to save!
Please note: You must be a UK resident for entry in to the giveaway.