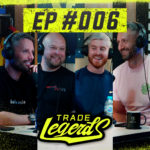 We're back for Episode 6! Guests this episode include Mark from MJ Tiff Plumbing & Heating & Alex, from Woodward Plumbing & Heating. Another Plumber's Special Special this week! Mark talks about his time as a dairy farmer, becoming a local history buff and renovating an old asylum.
Alex talks about his life changing experience, his illness and how it's changed his outlook and Pete want's to know if you'll but a murder house. Stay tuned until the end for a great giveaway from our partner Talon Workwear featuring merchandise & workwear as well as a crate of Trade Legends Beer and as always our huge £250 Power Tool Mate Voucher.
To enter visit tradelegends.uk/giveaways/ and enter your answers to the following questions:
Q. Guess the combined score of 12 darts from both players, closest answer wins.
Q. Who got the highest score in Darts… Mark or Alex?
Good Luck!
Please note: You must be a UK resident for entry in to the giveaway.