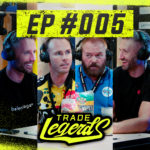 The Pumpkins have been extinguished, and the cobwebs swept up and we're back for Episode 5! Guests this episode include Andy Cam (I_Love_Plumbing) and Jack Knight from Big Wipes It's a Plumber's Special this week! Fresh (In the case of Andy, Less than Fresh) from a Trade Show.
The gang talks Big Wipes. Andy tells some stories (Some of which actually made the edit) and Pete loses it… over a table.
Stay tuned until the end for an amazing giveaway featuring a Big Wipes Power Pack, Unilite SLR-1000 & Mini Tripod and a case of Trade Legends Beers + as always our huge £250 Power Tool Mate Voucher.
To enter visit tradelegends.uk/giveaways/ and enter your answers to the following questions:
Q. Guess the combined score of 12 darts from both players, closest answer wins.
Q. Who got the highest score in Darts… Andy or Jack?
Good Luck!
Please note: You must be a UK resident for entry in to the giveaway.