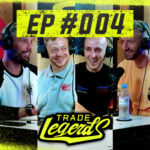 After our special episode last week, we're back to our scheduled programming!
Guests this episode include Will from HHP UK and Dave from Elwood Enterprises In this episode, we talk gaining business from social media and does it work? The massive price increases across the industry, how to tame a troll. And Alex and PB finally have something in common… baked beans and popped discs.
Stay tuned until the end for an amazing giveaway featuring a Unilite bundle including a UR4.5 Tool Bag, SLR-1000, Hard Case and a crate of Trade Legends beer. That's not all first prize this episode is £250 in PowerToolMate vouchers! To enter visit tradelegends.uk/giveaways/ and enter your answers to the following questions:
Q. Guess the combined score of 12 darts from both players, closest answer wins.
Q. Who got the highest score in Darts… Will or Dave? Good Luck!
Please note: You must be a UK resident for entry in to the giveaway.