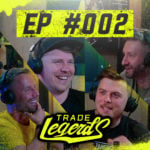 Alex & PB Plumber are back! Guests this episode include marketing extraordinaire Dave from Knipex & Electrician and YouTuber Nick Bundy.
In this episode, Nick gives us a deep look in to being a working electrician and vlogger, Pete tells some… questionable jokes and Dave probably lost his job as Marketing Manager at Knipex.
Stay tuned until the end for an amazing giveaway featuring Knipex merchandise, Trad Trades Clothing, Unilite Products and a crate of Trade Legends beer. That's not all first prize this episode is £250 in PowerToolMate vouchers!
To enter visit tradelegends.uk/giveaways/ and enter your answers to the following questions:
Q. Guess the combined score of 12 darts from both players, closest answer wins.
Q. Who got the highest score in Darts… Nick or Dave?
Good Luck! Please note: You must be a UK resident for entry in to the giveaway.