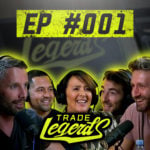 Join Alex & PB as they chat to guests about building a brewery, running a tool empire, how to start a radio station from scratch… and the abuse you have to deal with as a lifeguard!
Guests include:
Louis from Fix Radio
Jo from Church Farm Brewery
Nathan from PowerTool Mate
Stay tuned until the end for an amazing giveaway featuring bundles of merchandise, a crate of Trade Legends beer, and an incredible first prize of £500 in PowerTool Mate vouchers.
To enter visit tradelegends.uk/giveaways/ and enter your answers to the following questions:
Q. Guess the combined score of 12 darts from both players, closest answer wins.
Q. Who got the highest score in Darts… Jo or Nathan?
Good Luck! Please note: You must be a UK resident for entry in to the giveaway.