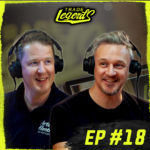 He needs no introduction, The man himself, Jordan from @Artisan Electrics Joins Big Al & @P B Plumber on this episode of Trade Legends.
Jordan talks about how he started as an Electrical Apprentice working with his father, and his journey of overcoming hardships managing the family business and eventually starting his own business Artisan Electrics, and finding fame on Youtube, plus his "Beef" with Nick Bundy.
Our Second guest this week is Steve from ARMD an exciting new startup that's trade first. By combining technology and insurance. ARMD is on a mission to prevent Tool Theft in the UK. Steve talks about what they're doing to help trades people including a Free Tool Inventory App for everyone to make insurance claims easier as well as the creation of anti-tool theft technology for vans.
In other news, PB Plumber embraces his passion for the Welsh, and we find out where Charlotte's Nan lives… Oh and Jordan never wanted to be an Electrician.
⭐ This episode is proudly sponsored by Bisley Workwear ⭐
🏆 £250 PowerToolMate Prizes Competition | https://bit.ly/prizetl
⭐ Save 15% with code TRADELEGENDS at Bisley Workwear | https://bit.ly/bisleyww
⭐ Save 50% with code TRADELEGENDS at Tradify | https://bit.ly/3pVHz2a
🏷️ Save Money on over 45 Trade Brands | https://bit.ly/disctl
______
Guests this episode:
⚡️Jordan ( Artisan Electrics ) | @Artisan Electrics on YouTube
🛠️ Steve ( ARMD ) | https://www.armd.uk
#business #podcast #electrician