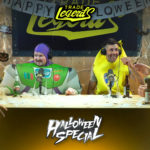 Spooky Season is upon as so we have a brand new halloween special for you!
This episode we have two very different guests with incredibly different stories and personalities!
Pointy Plumber joins us with the energy of several thousand suns and talks to us about how he got started after struggling with school and addiction to then becoming a Plumber and creating events and experiences for the Plumbing community.
Craig gives us insight into home renovation, starting off with no qualifications becoming a kitchen fitter, to building up his portfolio of housing renovations and the struggles that come with the huge spikes in interest rates we're seeing currently.
⭐ This episode is proudly sponsored by Bisley Workwear ⭐
🏆 £250 PowerToolMate Prizes Competition | https://bit.ly/prizetl
⭐ Save 15% with code TRADELEGENDS at Bisley Workwear | https://bit.ly/bisleyww
⭐ Save 50% with code TRADELEGENDS at Tradify | https://bit.ly/3pVHz2a
🏷️ Save Money on over 45 Trade Brands | https://bit.ly/disctl
______
Guests this episode:
💧 Pointy Plumber IG: @pointy_plumber
🏠 Yorkshire Property Investor| @yorkshire_property_investor
#plumber #homerenovation #podcast