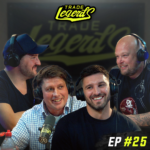 We're back to our regular scheduling after a little break. This episode you may notice that Big Al & @P B Plumber have got significantly more attractive. We have not one but two guest hosts this episode! @M J Tiff Plumbing & making his debut Fake Al takes over the podcast.
And what an episode it is! Bailey Carpentry talks us through what it's like working for celebrities as a bespoke carpenter and how one decision changed his life! Lord Muck talks us through his life, from Farming, Agriculture, Construction and a successful Youtube career what hasn't he done.
Mark also tells a very interesting anecdote about Working on Uri Gellers House and his forbidden room.
⭐ This episode is proudly sponsored by Bisley Workwear ⭐
🏆 £250 PowerToolMate Prizes Competition | https://bit.ly/prizetl
⭐ Save 15% with code TRADELEGENDS at Bisley Workwear | https://bit.ly/bisleyww
⭐ Save 50% with code TRADELEGENDS at Tradify | https://bit.ly/3pVHz2a
🏷️ Save Money on over 45 Trade Brands | https://bit.ly/disctl
______
Guests this episode:
🪚 Ben ( Bailey Carpentry ) IG: @bailey_carpentry
🚜 Kurt ( Lord Muck ) | @Lord Muck
#carpentry #agriculture #construction #podcast #funny