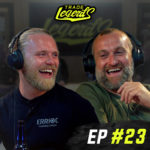 Two new guests join PB Plumber and Big Al this week on Trade Legends, and for the first time they're both Carpenters! We have Alex from Errioc Carpentry & Aidan from ALH Timber Framing.
Alex (Errioc) talks to us about how he initially got in to the industry as an apprentice, followed by 10 years of sub contracting before finally going it alone during lockdown.
Aidan chat's to the gang about how he got started after working in a restaurant for 3 years before joining his godfather's business. And both guests have a fair bit to say on the state of the college system for carpentry.
And for some reason Pete performs VERY Invasive surgery on himself.
⭐ This episode is proudly sponsored by Bisley Workwear ⭐
🏆 £250 PowerToolMate Prizes Competition | https://bit.ly/prizetl
⭐ Save 15% with code TRADELEGENDS at Bisley Workwear | https://bit.ly/bisleyww
⭐ Save 50% with code TRADELEGENDS at Tradify | https://bit.ly/3pVHz2a
🏷️ Save Money on over 45 Trade Brands | https://bit.ly/disctl
______
Guests this episode:
🪚 Alex ( Errioc Carpentry ) IG: @errioc_carpentryltd
🪚 Aidan ( ALH Timber Framing ) | IG: @alhtimberframingltd